Pets:
Under reconstruction
Photography (click here to see some of my photos)
Fossil collecting



I have the world's largest collection of fossils. I keep it embedded in rock formations all over the world. Perhaps you've seen some of it.
Click here to see some of the specimens that you may see in my classes).
Other favorites (books, music, movies)
Homebrewing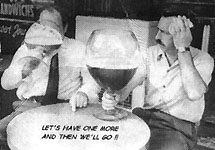 Fill with mingled cream and amber, I will drain that glass again.
Such hilarious visions clamber,through the chamber of my brain.
Quaintest thoughts - queerest fancies,come to life and fade away;
I am drinking Ale today!
Edgar Allan Poe
But fortunately, it's also clear:
that everybody goes down well with beer.
Stephen Sondheim, Sweeney Todd